PCA Board of Directors and Leadership
Based in Pennsylvania's capital city of Harrisburg, the Pennsylvania Chiropractic Association (PCA) is a tax-exempt association under Internal Revenue Code Section 501(c)(6).
Board of Directors
The PCA is governed by a 14-member Board of Directors.  PCA's officers serve in the following positions: President, Immediate Past President, Vice President, Treasurer and Board Secretary.  PCA's President is elected by the PCA voting members (DCs) for a 2 year term in office. On odd numbered years PCA's members elect a President-Elect, who sits/votes on the Executive Committee and Board of Directors, as well as succeeds the President the following year.  PCA's Board of Directors is composed of 9 regional directors, 3 each from the Western, Central and Eastern regions.  There are also 9 alternate directors (3 in each region); an alternate director may be seated by the Board of Directors in the absence of a regional director.
The PCA Board:
develops and implements PCA's stated mission and strategic plan: PCA2020

directs and manages the organizational affairs of the PCA

reviews and approves all organizational and legislative policies

authorizes and oversees the allocation and disbursement of funds
PCA's Executive Vice President and General Counsel have an active role and participate in all meetings of the Board of Directors.
2022-2024 EXECUTIVE COMMITTEE
President
Keith Miller, DC

215-703-9999 
President-Elect

Andrew Heck, DC
717-525-4084
Vice President

Kris Arnold, DC
814-285-6412
Secretary

Chris Young, DC
dr.chris@1800painteam.com
Immediate Past President
Dan Schatzberg, DC
610-565-5720
Treasurer
Jeffrey Snyder, DC 
610-935-5900
Executive Vice President
Edward Nielsen, M.H.S
717-232-5762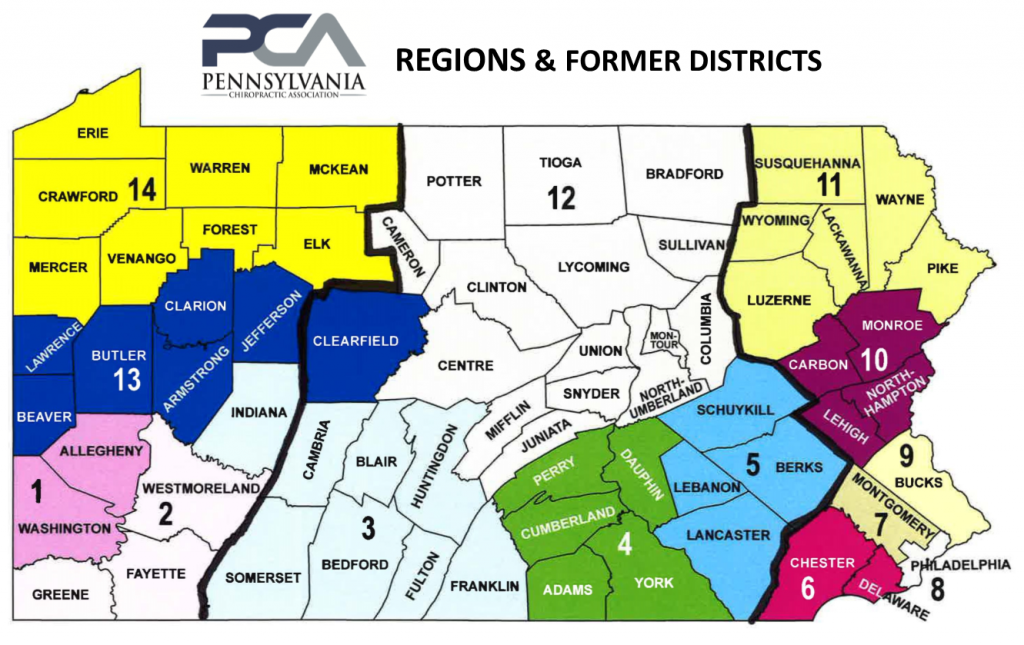 Western Region
Case Phillips, DC
412-321-3213
Joshua Slomkowski, DC
412-490-1700
-Vacant-
 
Alternate Directors:
Dan Agona, DC
412-678-3844 
   Anthony Geramita, DC
724-654-2008 
   Stuart Surkosky, DC
724-789-9797
Central Region
Victor Rizzo, DC
814-944-3536
Daniel Nigrelli, DC
610-653-3460
-Vacant-

Alternate Directors:
Roy Love, DC
814-234-5271 
-vacant-
-vacant-
Eastern Region
Jeffrey Snyder, DC
610-935-5900
Brandie Keates, DC
610-337-7463
Paul Roscioli, DC
215-237-8101

Alternate Directors:
Andrew Timar, DC
484-684-9117  
-vacant-
-vacant-
2023 Board of Directors Meetings
Wednesday, February 8 @ 8pm – Zoom
(2022 financial closeout; regular business)
Saturday, March 25, 8am- 4pm – In-Person
Mandatory Meeting & Team Building Event for ALL PCA BoD members – Harrisburg area (regular business)
Wednesday, June 7 @ 8pm -Zoom
(regular business)
Wednesday, July 19 @ 8pm – Zoom
(mid-year budget performance review)
Wednesday, September 13 @ 8pm – Zoom
(preview & prep for Annual Convention @ Kalahari & regular business)
Sunday, October 8, 8am- noon – Mandatory In-Person @ Kalahari, Mt Pocono, PA
(BoD reorganizational meeting)
Wednesday, November 15, 8pm – Zoom
(initial 2024 budget presentation, regular business)
Wednesday, December 13, 8pm – Zoom
(final presentation of 2024 budget for BoD vote; regular business)