WELCOME TO THE PENNSYLVANIA CHIROPRACTIC ASSOCIATION!
YOUR PCA is working for you in Harrisburg and on Capitol Hill!
---
Brent Shealer, DC - Pittsburgh, PA 
"I just wanted to chime in quickly and give a  Special shout out to the PCA in this group. Simply put, join! Because of my membership I was recently able to reach out to leadership and get a problem resolved very quickly from the state BPOA when I was getting nowhere with them prior. Also, I've been able to stay on top of a lot of the nonsense that is happening with UPMC/AMI right now among other important issues in changes over the years.  For example, there also working on problems with how terrible Aetna is, meeting with Congressman trying to get equal pay for Chiro's that MD's get paid for the same service (EM codes for example), and still working on the problem with doc's having to direct supervise therapy and rehab.
 I see it said on here often, "does PCA know about this and" or "what is the PCA doing about this" regarding issues. Well, yeah, they do, and frankly for the cost of one adjustment a month ($50)  You can be a member and see your answer to those questions yourself, amongst many other discussion points while being informed. They can't solve every problem, but they do try and work hard on your behalf, member or not. So why not support them? A stronger State association, with more members, carries a lot more weight in matters. Thanks!"
Jeff Snyder, D
C - Phoenixville, PA
"The PCA is an absolute for any doctor of chiropractic in the Commonwealth of PA. We know membership is essential in order to have strength in numbers when dealing with issues pertaining to practice and public health issues where we can make a huge impact. The PCA has our back and the backs of the consumer (no pun intended). As a practicing chiropractor, the membership fee is a NO BRAINER! Why would you, as a chiropractor, practice without the largest state association in your back pocket, on speed-dial, so you can manage the issues that come up day to day in practice.
The staff at the home office has never been better. Our executive vice president is cordial, respectful, and a true leader who has years of experience which has helped the association greatly over the past number of years.
I'm thankful for the PCA and what we as an association have accomplished to protect the rights of chiropractors to practice as well as protecting the health of individuals throughout our state."
Ed Kropf, DC - Pittsburgh, PA 
"As a PCA member over 31 years I have been a distant observer of Chiropractic in our state as well as the several factions of philosophy practiced here. As so far as the PCA is viewed, I feel the current system in place is providing the best communication with it's members. PCA has put into place several terrific members and administration that take on the problems from many fronts, report and attempt to correct/improve the position for the future of Chiropractic in our state.
Good job, you all are doing things so very much better, keep it up!!!"
Jeffrey Sklar, DC - Philadelphia, PA 
"In full disclosure, I have been a district director for the PCA for the last 2-3 years. However, I have been a member my entire career. The current leadership of the PCA has more passion and commitment toward protecting all PA chiropractors right to practice and patient accessibility than I have ever experienced. Whether you are a member or not, you have been benefiting from all the efforts of volunteer board members and PCA associates from lobbying to legal.
The level of responsiveness from any direct inquires to the Execs or affiliates(legal, political) has always been unparalleled with Ed Nielson as Executive Director. Whether you are a member or not, you have benefited from battles won by the PCA that may have never crossed your front steps.
The PCA has been a major contributor to my success in practicing in Pennsylvania. I am grateful to serve and more grateful to have such selfless colleagues that freely donate hours and hours of their time for our benefit as Pennsylvania DCs!"
"The PCA helps chiropractors and I have found they are professional and very reliable. I can call them with specific questions and if they cannot answer then they refer me to the right person."
"I am a retired doctor, who was hit with a $17,000 recoupment request from a Pennsylvania health insurer, TWO years after I retired. As a retired-status member, I immediately contacted the Pennsylvania Chiropractic Association.  PCA's  staff were responsive and very helpful, including referring me to Mr. Jason Martin, PCA's General Counsel, for a free legal consultation.
After talking at some length with Mr. Martin, he assisted me with the audit and provided very solid advice. I followed his advice and I was able to resolve the audit with the health insurer without any payment on my part.   I am thrilled with the supportI was given by PCA staff and General Counsel Martin's legal advice.
Thanks to my membership in PCA, I received very responsive and immediate support for my problem.  Most importantly, my membership in PCA saved me $17,000of my hard-earned money!  Thank you, PCA!"
Lori Kalie, DC - Lancaster, PA 
"I actually sold my practice. About two hours after you posted the ad, I got a call from a doctor who was interested. He officially took over today. I received quite a number of calls about the practice since the ad was up. The service you provide is valuable, and I just wanted to thank you and the PCA for offering this service."
Brian Meenan, DC - Pittsburgh, PA 
"I just started my own practice a couple of months ago. $600 is a bit steep but it is worth it! Charge me monthly, that'd be great."
---
ATTENTION ALL UPMCHP DCs
PCA is aware that there are significant issues with denied E/M codes. PCA has requested a fax number from UPMCHP that participating DCs can use for appeals. While we await the fax numbers, YOU CAN SCAN your documentation and appeal denied E/M codes by using:
IMPORTANT:

Follow the instructions and be sure to include the DC's full name and her/his UPMC six digit number.
---
Yet again, only PCA "has your back"
PCA Requests "Implementation Hold" on UPMCHP/ AMI TPA
Drs. Perkins & Farabaugh:
PCA appreciates our recent conference calls regarding chiropractic and especially the effort to create a mutually beneficial relationship between Pennsylvania DC professionals and UPMCHP, for the benefit of all insured lives and the patients we treat.
Over the past week, the recent introduction of this latest TPA, especially the mandatory training videos and latest choice of AMI, has resulted in PCA having serious concerns. More to the point, we have received the same complaints from a massive number of doctors regarding the implementation of this new program, which we understand may begin as early as this coming Monday, August 3rd. PCA's concerns follow:
1.     Regardless of how any new TPA program is presented, it is always a new burden for a small medical office to implement. This burden is even more acute in context of the CV-19 pandemic, and based on the numerous concerns of doctors, PCA has concluded that this will, without question, create an excessive burden at the worst possible time.
Most offices are already stretching their limited staffs to the breaking point:  contacting patients before appointments to see if they are healthy enough to have appointments; temperature checks; cleaning every patient therapy and treatment surface after each encounter; talking to worried patients about vaccines, hydroxychloroquin and similar questions; calming fears over friend or family issues related to the virus and the associated emotional and financial burdens, etc.
Doctors are having significant troubles with staffing as some experienced older staff still do not feel safe coming to work, etc. The overwhelming concern from increasingly angry and frustrated doctors, is simply this:
"How insensitive and uncaring is UPMCHP to institute such a major policy and program shift when practices are just getting back on their feet? ... and now THIS."
2.     Our doctors consistently complain they have not had enough time to train their staffs on these newly imposed procedures. Most of these new procedures can only be done by the doctor and most definitely not done by the staff.  Yes, the staff can enter Pain Scores relatively easily, but once a request for more data comes through, it is often the doctor that has to get involved to address next steps.  Chiropractic staff are neither nurses, nor medically trained.  They are primarily trained in administrative work. The "follow up" requests for data will require doctor input and time.
An AMI training video was presented yesterday, July 30, with AMI program implementation starting Monday, August 17. Remember that with this significant program change, essentially every single patient in a doctor's office is now essentially a "new patient."  Adding to this ill-timed and unjustified burden is the reality that this is occurring during the peak of vacation season while staff are already muddling through the continuing impact of CV-19, for many both personally and professionally.  Doctors are rightly concerned, frustrated and outraged at the timing of the UPMCHP/ AMI program.
3.     Adding to the UPMCHP/ AMI situation, many of these patients are treated at extremely low reimbursements due to government assistance programs.  So, where there are already severe cuts to practices' already low profit margins in these programs, many doctors tell us that they LOSE money on these programs as they try to help their communities… and now this poorly timed program further exacerbates the economic problem.
It is PCA's request that you take these concerns back to your respective teams, think through this moment in our shared experience during the CV-19 pandemic and delay implementation of this program by no less than 180 days, subject to the ebb and flow of the CV-19 pandemic.  We realize that this UPMCHJP's choice to impose this TPA is inevitable, but until such time as the severity of the CV-19 problem has been mitigated, we request that implementation be delayed in order to take a burdensome and distracting issue off of these offices' already overwhelmed "plates."
Please take these concerns to heart and give the member providers the respect and time they need under these uniquely extenuating circumstances.  We ask you to be respectful to these health care practitioners who are under significant duress during this pandemic.  We trust that your respective companies can understand and comply with this reasonable request.  In the interest of acting in good faith, we sincerely ask that you honor this request until the pandemic has been mitigated.
Sincerely and respectfully,
Daniel Schatzberg, DC, President, on the behalf of the PCA Executive Committee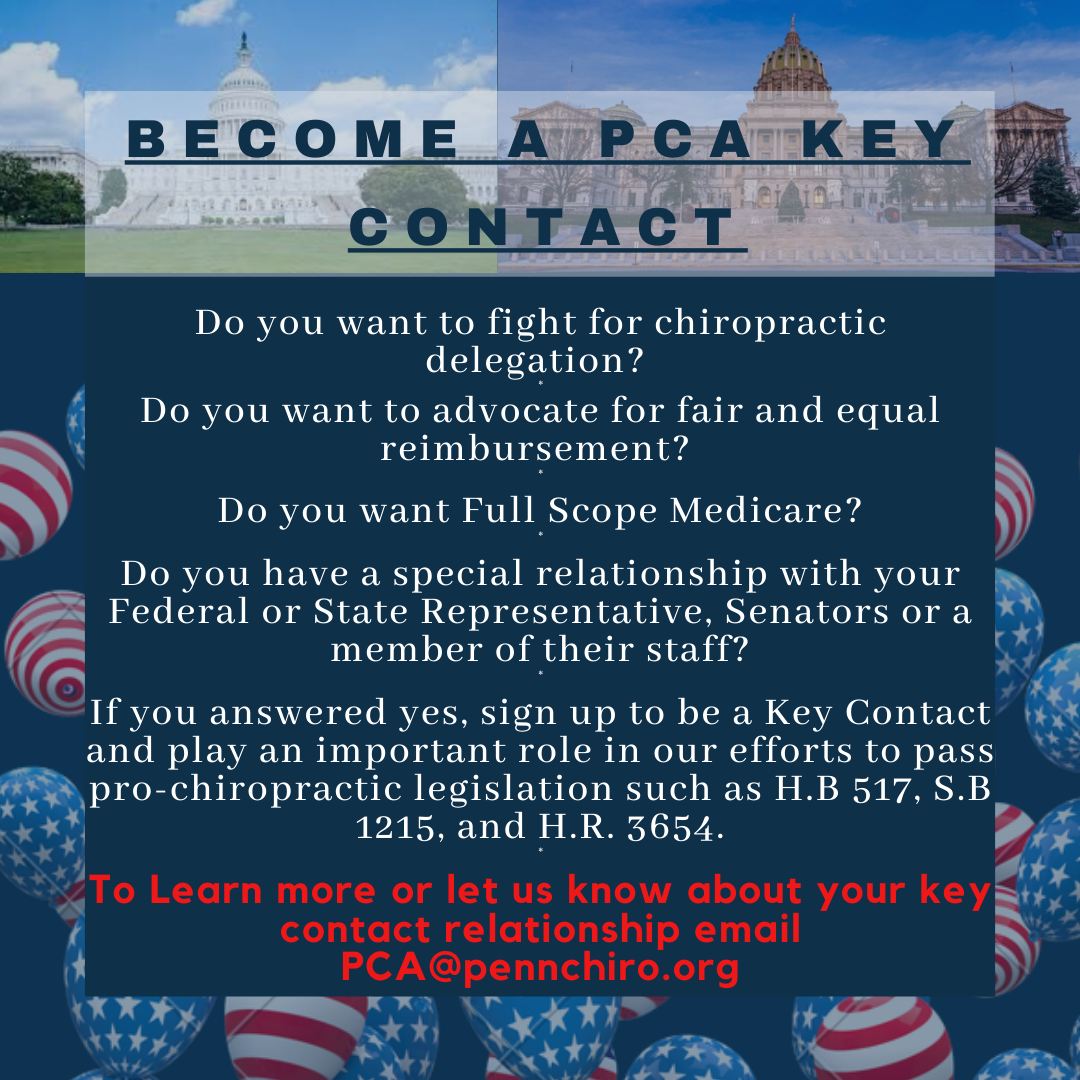 The Time for Medicare Parity is NOW
Ask Congress to support H.R. 3654, the Chiropractic Medicare Coverage Modernization Act of 2019
Despite substantial reductions in recent years, opioids continue to be widely dispensed to workers with work-related injuries in several states. Longer-term opioid dispensing for workers with work-related injuries can lead to increased disability duration and even death. This study identifies which patients are more likely to develop longer-term opioid use, given what is known about…
Strategic Business Partner Spotlight
Medical Equipment Repair, Parts, Service, and Inspections - Fully certified and insured to provide all of your service needs!
Since 1998, MEMCO has provided medical equipment repair and maintenance. Over the years, our services have naturally expanded to include sales and service of new and pre-owned medical equipment and adjustable tables. We continue to expand our services to meet the demands of our clients.