WELCOME TO THE PENNSYLVANIA CHIROPRACTIC ASSOCIATION!
YOUR PCA is working for you in Harrisburg and on Capitol Hill!
---
Process to Reopen Pennsylvania
Last updated: 10:46 a.m., August 13, 2020
The 2019 Novel Coronavirus (COVID-19) pandemic is an unprecedented event that has impacted every part of the globe. Pennsylvania has seen a similar unprecedented burden of COVID-19 and has taken equally unprecedented measures to save lives and reduce morbidity of the COVID-19 virus.
The commonwealth has responded aggressively to the spread of COVID-19, first by working to contain the virus through contact tracing and quarantines for residents who came in contact with someone who tested positive for the virus to slow sustained community spread. When sustained community spread was established, the commonwealth moved to mitigation efforts early in the response by issuing orders to close schools and non-life-sustaining businesses; and to restrict large gatherings. This decision to respond aggressively has proven to be an essential and effective measure to reduce the spread of COVID-19 and ultimately save an unrealized number of Pennsylvanians' lives.
---
ATTENTION ALL UPMCHP DCs
PCA is aware that there are significant issues with denied E/M codes. PCA has requested a fax number from UPMCHP that participating DCs can use for appeals. While we await the fax numbers, YOU CAN SCAN your documentation and appeal denied E/M codes by using:
IMPORTANT:

Follow the instructions and be sure to include the DC's full name and her/his UPMC six digit number.
---
Doc, are you hearing from health insurers about your Pennsylvania re-licensure?
Are these insurers demanding proof of your re-licensure by September 1, 2020?
If you intend to use the 90-day PA re-licensure extension (November 30, 2020), send the following link and/or the attached June 9, 2020 PA Department of State official waiver/ extension notice in response to the insurers' emails, faxes and mail notices to you about complying by September 1, 2020.
https://www.dos.pa.gov/ProfessionalLicensing/BoardsCommissions/Chiropractic/Pages/default.aspx
Yep, once again, doctor, PCA "has your back…!"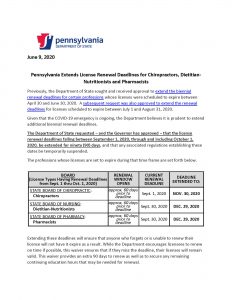 ---
Yet again, only PCA "has your back"
PCA Requests "Implementation Hold" on UPMCHP/ AMI TPA
Drs. Perkins & Farabaugh:
PCA appreciates our recent conference calls regarding chiropractic and especially the effort to create a mutually beneficial relationship between Pennsylvania DC professionals and UPMCHP, for the benefit of all insured lives and the patients we treat.
Over the past week, the recent introduction of this latest TPA, especially the mandatory training videos and latest choice of AMI, has resulted in PCA having serious concerns. More to the point, we have received the same complaints from a massive number of doctors regarding the implementation of this new program, which we understand may begin as early as this coming Monday, August 3rd. PCA's concerns follow:
1.     Regardless of how any new TPA program is presented, it is always a new burden for a small medical office to implement. This burden is even more acute in context of the CV-19 pandemic, and based on the numerous concerns of doctors, PCA has concluded that this will, without question, create an excessive burden at the worst possible time.
Most offices are already stretching their limited staffs to the breaking point:  contacting patients before appointments to see if they are healthy enough to have appointments; temperature checks; cleaning every patient therapy and treatment surface after each encounter; talking to worried patients about vaccines, hydroxychloroquin and similar questions; calming fears over friend or family issues related to the virus and the associated emotional and financial burdens, etc.
Doctors are having significant troubles with staffing as some experienced older staff still do not feel safe coming to work, etc. The overwhelming concern from increasingly angry and frustrated doctors, is simply this:
"How insensitive and uncaring is UPMCHP to institute such a major policy and program shift when practices are just getting back on their feet? ... and now THIS."
2.     Our doctors consistently complain they have not had enough time to train their staffs on these newly imposed procedures. Most of these new procedures can only be done by the doctor and most definitely not done by the staff.  Yes, the staff can enter Pain Scores relatively easily, but once a request for more data comes through, it is often the doctor that has to get involved to address next steps.  Chiropractic staff are neither nurses, nor medically trained.  They are primarily trained in administrative work. The "follow up" requests for data will require doctor input and time.
An AMI training video was presented yesterday, July 30, with AMI program implementation starting Monday, August 17. Remember that with this significant program change, essentially every single patient in a doctor's office is now essentially a "new patient."  Adding to this ill-timed and unjustified burden is the reality that this is occurring during the peak of vacation season while staff are already muddling through the continuing impact of CV-19, for many both personally and professionally.  Doctors are rightly concerned, frustrated and outraged at the timing of the UPMCHP/ AMI program.
3.     Adding to the UPMCHP/ AMI situation, many of these patients are treated at extremely low reimbursements due to government assistance programs.  So, where there are already severe cuts to practices' already low profit margins in these programs, many doctors tell us that they LOSE money on these programs as they try to help their communities… and now this poorly timed program further exacerbates the economic problem.
It is PCA's request that you take these concerns back to your respective teams, think through this moment in our shared experience during the CV-19 pandemic and delay implementation of this program by no less than 180 days, subject to the ebb and flow of the CV-19 pandemic.  We realize that this UPMCHJP's choice to impose this TPA is inevitable, but until such time as the severity of the CV-19 problem has been mitigated, we request that implementation be delayed in order to take a burdensome and distracting issue off of these offices' already overwhelmed "plates."
Please take these concerns to heart and give the member providers the respect and time they need under these uniquely extenuating circumstances.  We ask you to be respectful to these health care practitioners who are under significant duress during this pandemic.  We trust that your respective companies can understand and comply with this reasonable request.  In the interest of acting in good faith, we sincerely ask that you honor this request until the pandemic has been mitigated.
Sincerely and respectfully,
Daniel Schatzberg, DC, President, on the behalf of the PCA Executive Committee
PCA Direct July 2020 Available Now!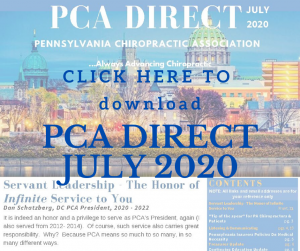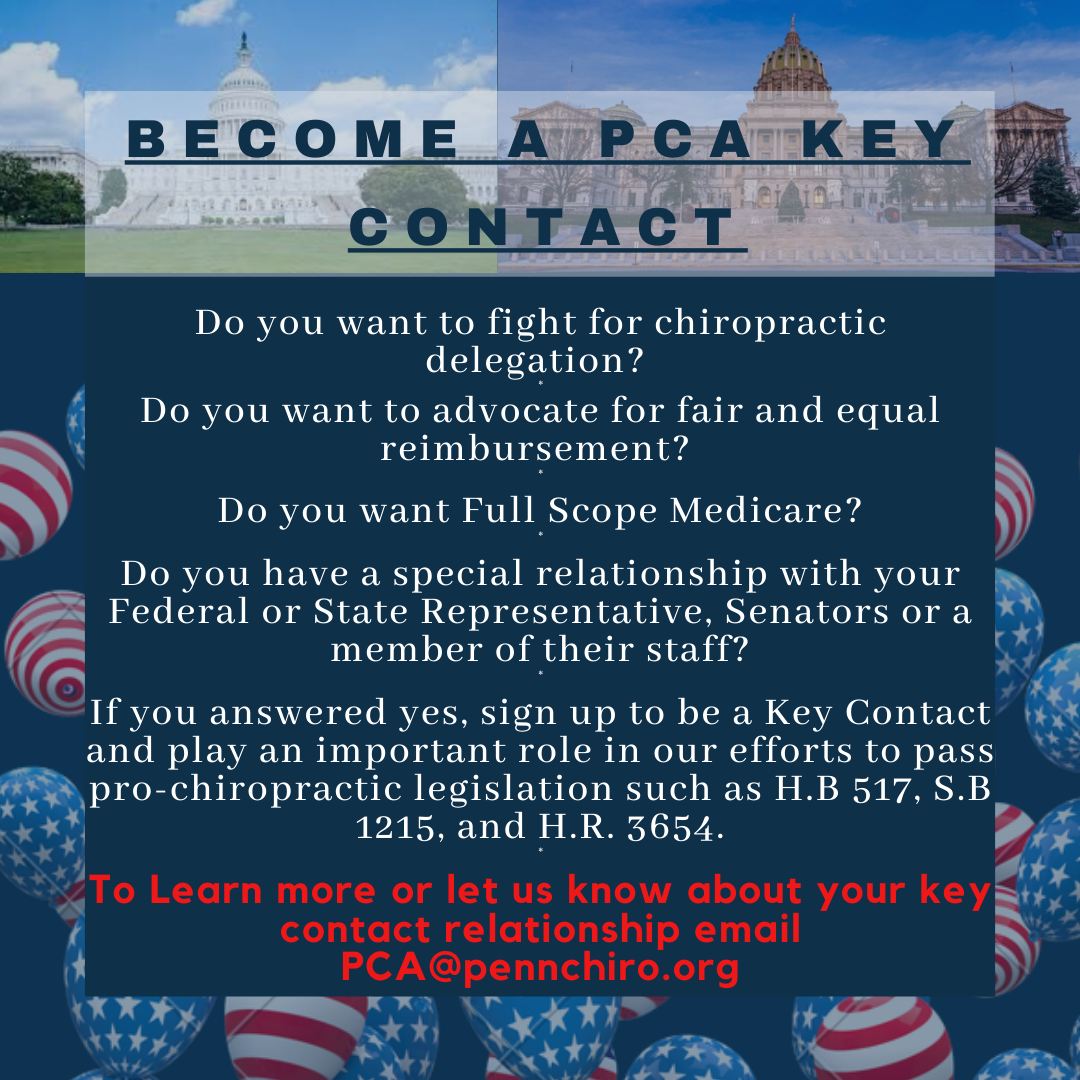 FOR IMMEDIATE RELEASEJuly 15, 2020 Harrisburg, PA – Governor Tom Wolf and Sec. of Health Dr. Rachel Levine today signed new orders for targeted mitigation efforts in response to the recent rise in COVID cases, primarily in southwest Pennsylvania, but also in other counties in the state, influencing the decision for statewide mitigation efforts for bars…
Strategic Business Partner Spotlight
Consulting, Training and Outsourced Billing
ChiroAbility, LLC is your personal full service practice management company. Karin Toner-Pierce and her staff have been helping chiropractors realize their professional goals and dreams for 26 years! Whether you need help with patient compliance issues, documentation tips, patient/insurance collections or effective reports of findings, ChiroAbility's got the answer. The company has expanded to include such services as: temporary & permanent CA and DC coverage as well as referrals to competent professionals in law, advertising, marketing specialties, computer hardware support, accounting, etc. Many clients look to ChiroAbility, LLC as its resource for a variety of office needs