WELCOME TO THE PENNSYLVANIA CHIROPRACTIC ASSOCIATION!
YOUR PCA is working for you in Harrisburg and on Capitol Hill!
---
The American Chiropractic Association (ACA) and Pennsylvania Chiropractic Association (PCA) applaud Congress for passing legislation that will promote fair competition in health insurance markets with the removal of a 75-year-old exemption that allowed these companies to avoid federal antitrust laws.
Daniel Schatzberg, DC, PCA President and Pennsylvania Delegate to the ACA's House of Delegates, commented "The PCA is pleased and encouraged with this legislation that at long last may begin 'leveling the playing field' between health providers and health insurers. Despite their heavily funded, 'warm and fuzzy' marketing campaigns, the stunning reality is that health insurers have aggressively encroached on the clinical judgments and practices of well-educated and trained health care professionals by their profit-obsessed intrusions into controlling the care patients receive, despite the professional judgments of the patients' providers."
***
As a result of congressional action last month, the U.S. Small Business Administration (SBA), in consultation with the U.S. Department of the Treasury, re-opened the Paycheck Protection Program (PPP) loan portal.
You can apply for a PPP loan through any existing SBA 7(a) lender or through any federally insured depository institution, federally insured credit union, and Farm Credit System institution that is participating.
Other regulated lenders will be available to make these loans once they are approved and enrolled in the program. You should consult with your local lender as to whether it is participating in the program. Find more information here.
​###
On November 17, 2020 the Pennsylvania Department of Health issued a Universal Face Covering Order for Pennsylvania.
The complete DoH order is attached > 20201117-SOH-Universal-Face-Coverings-Order-Update
This order supersedes all previous face covering orders, except where noted within the order.
Media Contact:Annette Bernat abernat@acatoday.org(703) 812­-0226FOR IMMEDIATE RELEASE: Feb. 12, 2021 Arlington, Va. – The American Chiropractic Association (ACA), a longtime advocate for increasing availability and coverage of chiropractic services in the military community, is encouraged by news that the Army and Air Force Exchange Service (AAFES) will offer chiropractic services at six U.S. locations beginning this year. The…
Interested in Getting Involved?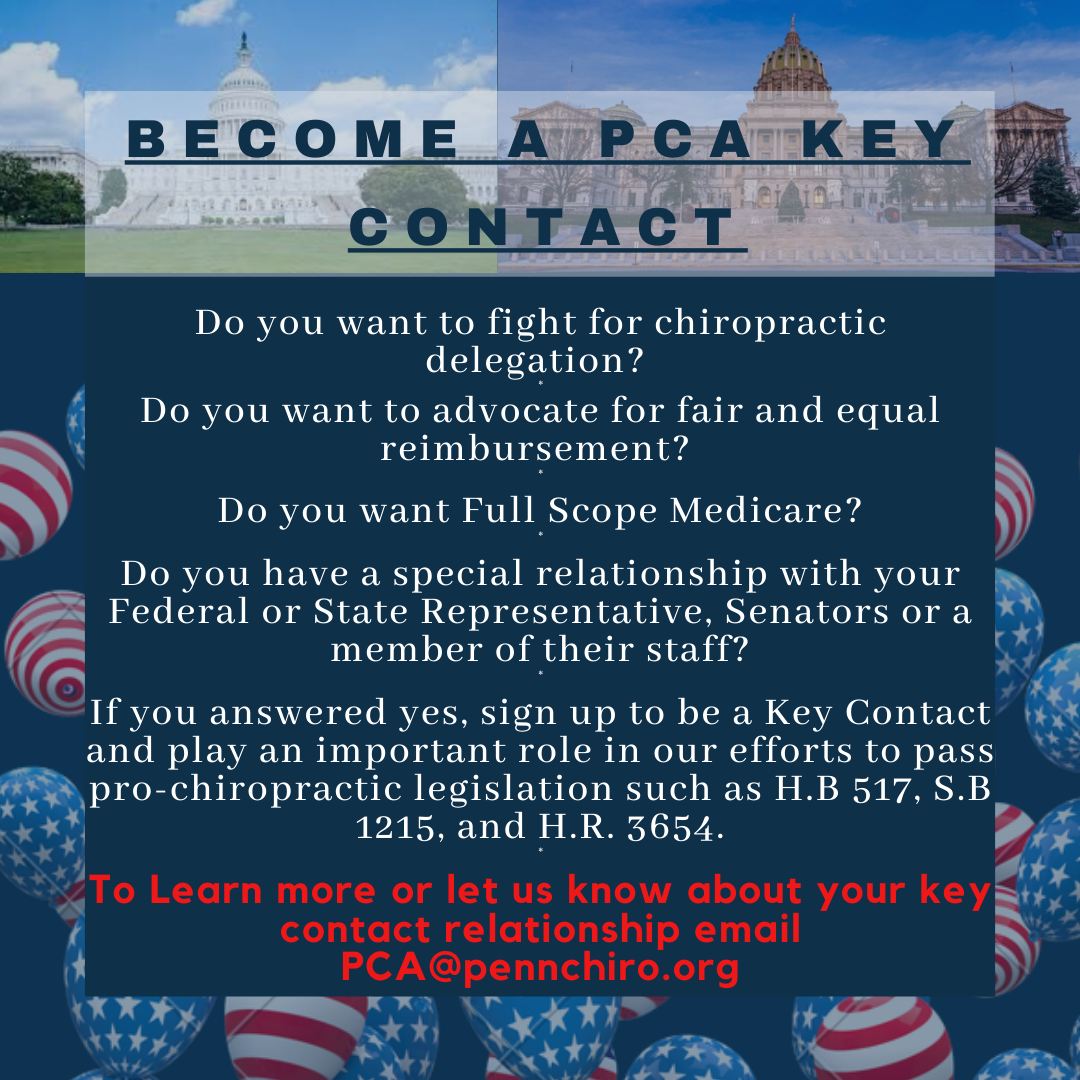 Stand Tall! Get "Adjusted" by Joining with YOUR Colleagues! #PCAStrong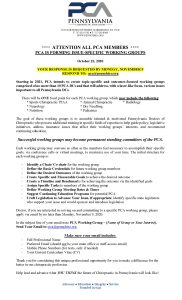 Brent Shealer, DC - Pittsburgh, PA 
"I just wanted to chime in quickly and give a  Special shout out to the PCA in this group. Simply put, join! Because of my membership I was recently able to reach out to leadership and get a problem resolved very quickly from the state BPOA when I was getting nowhere with them prior. Also, I've been able to stay on top of a lot of the nonsense that is happening with UPMC/AMI right now among other important issues in changes over the years.  For example, there also working on problems with how terrible Aetna is, meeting with Congressman trying to get equal pay for Chiro's that MD's get paid for the same service (EM codes for example), and still working on the problem with doc's having to direct supervise therapy and rehab.
 I see it said on here often, "does PCA know about this and" or "what is the PCA doing about this" regarding issues. Well, yeah, they do, and frankly for the cost of one adjustment a month ($50)  You can be a member and see your answer to those questions yourself, amongst many other discussion points while being informed. They can't solve every problem, but they do try and work hard on your behalf, member or not. So why not support them? A stronger State association, with more members, carries a lot more weight in matters. Thanks!"
Jeff Snyder, D
C - Phoenixville, PA
"The PCA is an absolute for any doctor of chiropractic in the Commonwealth of PA. We know membership is essential in order to have strength in numbers when dealing with issues pertaining to practice and public health issues where we can make a huge impact. The PCA has our back and the backs of the consumer (no pun intended). As a practicing chiropractor, the membership fee is a NO BRAINER! Why would you, as a chiropractor, practice without the largest state association in your back pocket, on speed-dial, so you can manage the issues that come up day to day in practice.
The staff at the home office has never been better. Our executive vice president is cordial, respectful, and a true leader who has years of experience which has helped the association greatly over the past number of years.
I'm thankful for the PCA and what we as an association have accomplished to protect the rights of chiropractors to practice as well as protecting the health of individuals throughout our state."
Ed Kropf, DC - Pittsburgh, PA 
"As a PCA member over 31 years I have been a distant observer of Chiropractic in our state as well as the several factions of philosophy practiced here. As so far as the PCA is viewed, I feel the current system in place is providing the best communication with it's members. PCA has put into place several terrific members and administration that take on the problems from many fronts, report and attempt to correct/improve the position for the future of Chiropractic in our state.
Good job, you all are doing things so very much better, keep it up!!!"
Jeffrey Sklar, DC - Philadelphia, PA 
"In full disclosure, I have been a district director for the PCA for the last 2-3 years. However, I have been a member my entire career. The current leadership of the PCA has more passion and commitment toward protecting all PA chiropractors right to practice and patient accessibility than I have ever experienced. Whether you are a member or not, you have been benefiting from all the efforts of volunteer board members and PCA associates from lobbying to legal.
The level of responsiveness from any direct inquires to the Execs or affiliates(legal, political) has always been unparalleled with Ed Nielson as Executive Director. Whether you are a member or not, you have benefited from battles won by the PCA that may have never crossed your front steps.
The PCA has been a major contributor to my success in practicing in Pennsylvania. I am grateful to serve and more grateful to have such selfless colleagues that freely donate hours and hours of their time for our benefit as Pennsylvania DCs!"
"The PCA helps chiropractors and I have found they are professional and very reliable. I can call them with specific questions and if they cannot answer then they refer me to the right person."
"I am a retired doctor, who was hit with a $17,000 recoupment request from a Pennsylvania health insurer, TWO years after I retired. As a retired-status member, I immediately contacted the Pennsylvania Chiropractic Association.  PCA's  staff were responsive and very helpful, including referring me to Mr. Jason Martin, PCA's General Counsel, for a free legal consultation.
After talking at some length with Mr. Martin, he assisted me with the audit and provided very solid advice. I followed his advice and I was able to resolve the audit with the health insurer without any payment on my part.   I am thrilled with the supportI was given by PCA staff and General Counsel Martin's legal advice.
Thanks to my membership in PCA, I received very responsive and immediate support for my problem.  Most importantly, my membership in PCA saved me $17,000of my hard-earned money!  Thank you, PCA!"
Lori Kalie, DC - Lancaster, PA 
"I actually sold my practice. About two hours after you posted the ad, I got a call from a doctor who was interested. He officially took over today. I received quite a number of calls about the practice since the ad was up. The service you provide is valuable, and I just wanted to thank you and the PCA for offering this service."
Brian Meenan, DC - Pittsburgh, PA 
"I just started my own practice a couple of months ago. $600 is a bit steep but it is worth it! Charge me monthly, that'd be great."
Strategic Business Partner Spotlight
SCOMED
At Scomed, its our mission to provide outstanding service. What does it mean to offer that level service? To us, it means that we won't rest until we're certain that a patient's treatment plan is being followed. From the moment we receive an order to fitting and delivery of equipment, through the compliance, and follow-up processes, we're here to help you achieve the goals that have been set forth for a patient's well-being.
For over thirty years now, healthcare professionals and patients have consistently counted on Scomed for our knowledge and expertise of medical equipment, including orthopedic braces, therapy products, and more.
Whether you're a patient or reaching out from a physician's office, Scomed offers a full range of durable medical equipment, products and supplies to meet all of your needs.