Act 31 – Child Abuse Recognition and Reporting Requirements 
Does PCA offer any Act 31 courses?
Yes, we have different dates and locations for in-person Act 31 courses in every even year, consistent with CE renewal.  Act 31 will also be offered at Convention every even year: 2022, 2024, etc.
Am I correct in thinking that after our initial 3 hour Act 31 training last renewal period, we still need to do 2 hrs for each future renewal?  If so, do these 2 hours count towards our 24?
Yes, only 2 hrs are required for renewal, and yes if the provider has been approved as a CE provider the two hours will count for CE. Be careful of free online options, as they may not be approved for CE.
How do I determine if a child abuse recognition and reporting course has been approved?
As courses are approved by the Department of Human Services and/or the Department of State/Board, these courses will be listed on the respective Board website. Unless a course is listed as approved by one or both of these agencies, the course will not be considered acceptable to meet the requirements for initial licensure or renewal.
In the practice of my profession, I do not come into contact with children. Do I need to complete this training to obtain a license, reactivate or renew my license?
Yes. The new law applies to all health-related licensees and funeral directors, regardless of whether they feel that they come into contact with children in their profession or not. Applicants and licensees must still complete the requirements under Act 31. Requests for this type of exemption will not be considered a valid reason for exemption.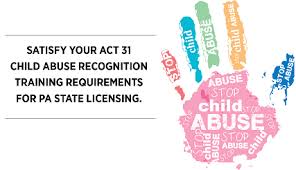 Act 31 is a Requirement of Licensure in PA!
NEED ACT 31 credits?  
Visit PA Family Support Alliance's website to register and complete their online training course. This is a 3 credit course that can be applied toward your 24 total CE required by the PA State Board of Chiropractic.